AMY HALL - PRESS KIT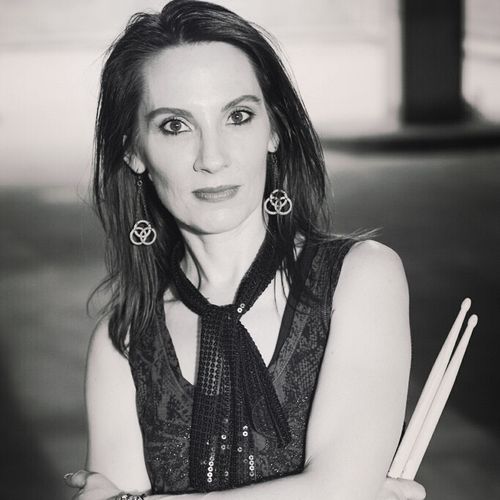 Well-known for her contributions to Heart, Led Zeppelin, and Bad Company tribute bands, AMY HALL's drumming has been described as impeccable, "like a human metronome," "like a freight train," and monstrous. As a bandleader and drummer, she has helped propel bands to top-tier, headliner status. She plays with confidence and authority, driving the band and always striving to serve the song. Her passion for drumming is infectious and shines through in her playing. "I can't remember NOT loving the drums," she says.
Amy has appeared in DRUM! Magazine, MODERN DRUMMER Magazine, DRUMHEAD Magazine, TOM TOM Magazine, KICKS! Entertainment Guide, on the television shows North Carolina Weekend and New Hampshire Chronicle. Touring the East Coast, she has played large festival and casino stages, as well as House of Blues, The Fillmore, The Ritz, Rams Head, etc., but she's just as comfortable on smaller stages and in the recording studio. She can be heard on studio recordings by NC legends and Zip Records artist Stratocruiser, Arrow Beach, Rebel's Fox, Steph Maguire, Colonial Drug, Mike Nicholson, and Multiples, among others.
When she's not in the studio, you can catch Amy playing with Bad Incorporated, Icky Thump, original female-fronted outlaw-country band Rebel's Fox (with two-time Grammy nominee Ricky Keen), and all-female "new grass" band Riggsbee Road. She also recently studied under Todd Sucherman of Styx. Amy resides in Raleigh, NC and is available for gigs, projects, and sessions. Contact Amy for rates and availability.
"You seriously rocked the hell out of this project. Your consistently solid performance on every track plus your calm, professional demeanor made it a delightful tracking session and made my mixing job easier. Very much appreciated... I'd like to add you to my "first call" list."
- PAUL BARTON, Studio 415 Recordings
"The most precise and focused drummer I've ever recorded." 
- MIKE NICHOLSON, producer/Hondo Creek Studios engineer
"One of the best in the business! A metronome with long hair! I would play with her any day doing any type of music. Just pure badass!"
- BILLY DARR, bassist for Clockworx
"The consummate professional."
- NEIL NOVEMBER, lead vocalist for Bad Inc.
"John Bonham power in a petite frame."
"I'd pay $25 to sit in a room and just listen to her play drums. Just beautiful!"
- GLENN JONES, professional musician
"Don't let her size fool you. She's a powerhouse!"
- EVERYONE
"Arrow Beach is...deliciously corrosive glam rock teeming with super catchy melodies and edgy lyrics that refuse to leave your cranium. This is grade A sonic fruit ripe for the pickin'..."
- KEN SHARP, NY Times Bestselling Author & VH1 Producer