BIO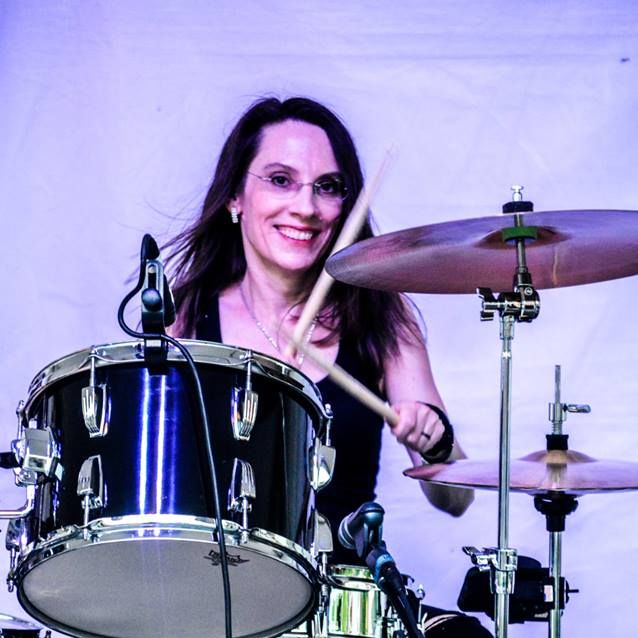 AMY HALL is an in-demand, award-winning professional drummer based in Raleigh, NC. She currently plays and/or records with Bad Incorporated - A Bad Company Tribute, original female-fronted southern-rock band Rebel's Fox, Icky Thump - The White Stripes Tribute, and all-female "new grass" band Riggsbee Road.
Though she grew up also playing piano and flute, drums were her first love. "I can't remember NOT loving the drums," she says. Her passion for drumming is infectious and shines through in her playing. She plays with confidence and authority, always striving to serve the song. Amy has extensive experience playing in rock, pop, country-rock, and honky-tonk cover bands, original bands, worship bands, and tribute bands.
Well-known for her contributions to Heart, Led Zeppelin, and Bad Company tribute bands, her drumming has been described as impeccable, "like a human metronome," "like a freight train," and monstrous, earning accolades like, "She sounded just like the recordings! A real keeper there" and, "The 'heart' of Heart Brigade." As a drummer and bandleader, she has helped propel bands to top-tier, headliner status. Country-rock recording artist Johnny Orr hired Amy based on her stellar reputation as a drummer and professional. She has appeared in DRUM! Magazine, MODERN DRUMMER Magazine, DRUMHEAD Magazine, TOM TOM Magazine, KICKS! Entertainment Guide, on the television shows North Carolina Weekend and New Hampshire Chronicle, and on the Matt Dudley Drumming Podcast. She has toured the East Coast and Midwest, playing such prestigious venues as House of Blues, The Fillmore, MadLife Stage & Studios, Rams Head, Jannus Live, The Ritz, The Bowery, Cat's Cradle, as well as festivals and casinos from New York to Florida.
Amy can be heard on studio recordings by NC legends and Zip Records artist Stratocruiser, Rebel's Fox, Steph Maguire, Arrow Beach, Colonial Drug, Mike Nicholson, Multiples, among others.
Amy has studied under Todd Sucherman of Styx. She resides in Raleigh, NC and is available for gigs, projects, and sessions. Contact Amy for rates and availability.